2019 TransWorld Halloween & Attractions Show Set to Take Over Downtown St. Louis in March
Home » Blog » MissouriHauntedHouses.com News and Updates, Missouri Haunt News
December 6, 2018 By Chelsea T.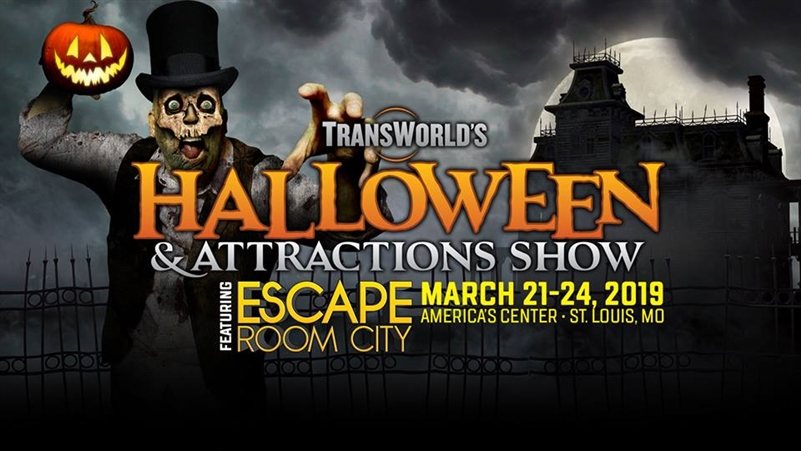 Photo by:
Photo by TransWorld's Halloween & Attractions Show, via Facebook
Each year, The TransWorld Halloween & Attractions Show takes over the America's Center in Downtown St. Louis, bringing in thousands of fans, haunt owners and businesses from all over the country. The 2019 show is set to take place from March 21st-24th and will feature a number of exhibitors.
Along with the numerous vendors that fill up the show floor, the event will also feature seminars and events, including the City Museum Party, which will take place the first night of the show, March 21st, from 8:00 PM-12:00 AM at the local museum.
The fun doesn't stop there! Friday night will feature 'The Vampire Circus' at the Ferrara Theatre in America's Center. The live show takes visitors on a spirited journey through an abandoned cemetery where an extraordinary circus comes back to life.
The TransWorld Venetian Vampire Ball will then take place on Saturday in the Convention Center Ballroom and fans will be happy to know that the no costumes policy doesn't apply to this after hours event - so dress to impress!
New for 2019 will be the TransWorld Christmas Show, which will be co-located with the Halloween & Attractions Show for one low price. That's right - one entry fee for both shows!
Click here for more details & be sure to visit Haunted House Media at Booth #1517!
Show Dates & Hours:

Thursday, 3/21: 10:00 AM-5:00 PM
Friday, 3/22: 10:00 AM-5:00 PM
Saturday, 3/23: 10:00 AM-5:00 PM
Sunday, 3/24: 10:00 AM-2:00 PM