Local Police Urge Residents to Review Their "Pumpkin Line Up" If Their Decorative Gourds Were Stolen After Finding Teens with Almost 50 Stolen Pumpkins Halloween Night
Home » Blog » Halloween's Hottest Trends, Little Ghost & Ghouls Corner , Missouri Haunt News, Halloween Headlines
November 2, 2017 By Cait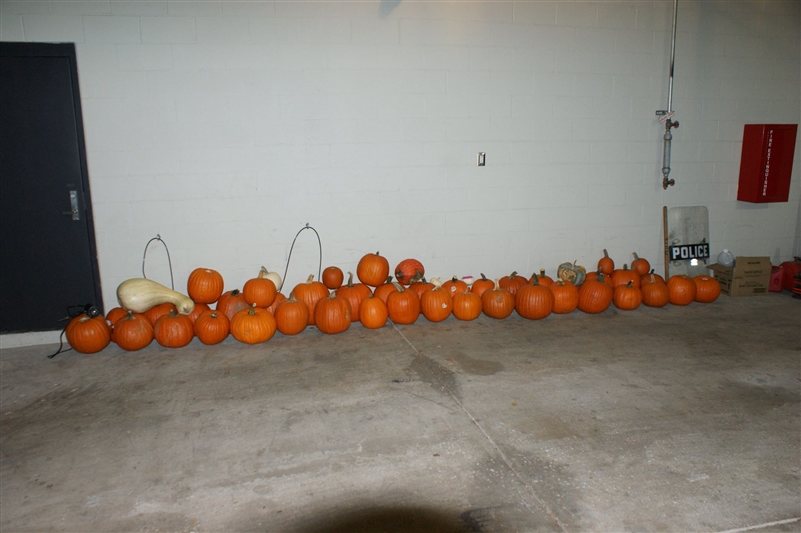 Close to 50 stolen pumpkins were seized from Halloween hooligans Halloween night.
Photo by:
Maryland Heights Police Officers Association, via Facebook.
One of the most amusing parts of November 1st is reading all of the completely outrageous Halloween News Headlines, and this year definitely didn't disappoint. In Maryland Heights, police were called by a frustrated local resident from the Pinehurst Area at 1:40 AM on the morning of November 1st, after hooligans snagged their pumpkin from their doorstep. Luckily the resident was able to give officers a description of the car the perps were driving, and police were able to find the pumpkin bandits fairly quickly after receiving the incident report.
While authorities were investigating the theft, another complaint of Halloween decor theft came in from a resident in the neighboring Arrow Heights area, and police were able to track down the vehicle, and apprehend the thieves, but when they pulled the car over, they were shocked. The three perpetrators had FOURTY NINE Pumpkins in their vehicle - their car was completely jam packed with gourds, and all three were arrested on the spot.
In an effort to reunite the stolen gourds with their rightful owners, the Maryland Heights Police Officers Association shared a "Pumpkin Line Up" Photo on their Facebook Page, and urged residents to get in touch if they woke up to missing pumpkins, and let them know if they recognize any of the gourds in the photo.
If one of your festive Halloween Pumpkins was stolen this Halloween, please contact The Maryland Heights Police Officers Association - you can reach them at 314-738-2373, or via email at Estough@MarylandHeights.com.
According to TIME Magazine, most of the pumpkins have thankfully been reunited with their rightful owners, but there are still about a dozen pumpkins that remain in police custody, so if you recognize the pumpkin you picked from the patch this year, be sure to get in touch!
Did You Have Pumpkins or Other Halloween Decor Stolen This Halloween? Did You Get It Back?
Let Us Know in the Comments Below!