Missouri Other Halloween Events
Not sure what type of Missouri Halloween event to go to this year? Some Missouri Halloween happenings are as unique as they are exciting, and do not fall into any of our regular categories, and we simply file those under "other". These Other Missouri Halloween Events can range from family friend, to entertainment and scares suitable only for adults, so make sure to read the full descriptions before getting your spook on!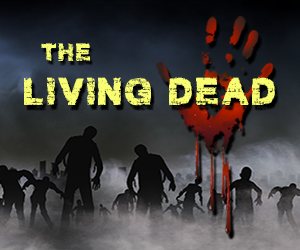 Located in Lees Summit
Open today!
It was only a matter of time...Humans have been trying to play God for too long, and now the bill has come due. In a testing facility, experiments have gone awry. Well-intentioned doctors and scientists trying to extend the length of life by awakening the dead - have failed...The Dead have indeed Read More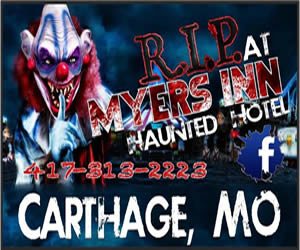 Located in Carthage
Open today!
Featuring over 12,000 square feet of terror, the Myer's Inn Haunt is not for the faint of heart. Room after room of frightening fun, come face to face with the creepiest of creatures that lurk throughout! Each room is uniquely themed and different from the next, complete with eerie hallways, Read More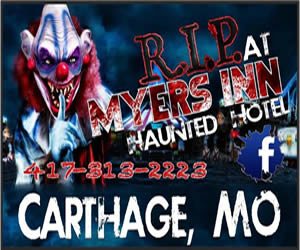 Views:
4,933
Photos:
Rating:
-
Reviews:
0

Featuring over 12,000 square feet of terror, the Myer's Inn Haunt is not for the faint of heart. Room after room of frightening fun, come face to face with the creepiest of creatures that lurk throughout! Each room is uniquely themed and different from the next, complete with eerie hallways, darkness, strobe lights and macabre music. This is one hotel where you may not want to stay...

Read More

Categories: Haunted Houses | Halloween Parties & Nightlife | Not-So-Scary Haunted Houses (Kid Friendly) | Other Events

Views:
6,988
Photos:
Rating:
-
Reviews:
0

It was only a matter of time...Humans have been trying to play God for too long, and now the bill has come due. In a testing facility, experiments have gone awry. Well-intentioned doctors and scientists trying to extend the length of life by awakening the dead - have failed...The Dead have indeed come back - but not as they were before. They now take life...They are The Living...

Read More

Categories: Haunted Houses | Zombie Hunts & Shootouts | Haunted Mazes / Haunted Corn Mazes | Other Events

Haunted Attraction

Zombie Attraction

Farm Attraction

Hayride

Pumpkin Patch

Corn Maze

Escape Game

Ghost Tour

Halloween Party

Other Attraction